Deciding On Accounting Software for Project Management
Reading Time:
4
minutes
When searching for the best accounting software for project management, there are must-haves and optional features that take away the friction in business operational workflows.
For service businesses, productivity improves over time by combining accounting software that eases your everyday bookkeeping process with accurate tracking of time spent on each activity.
In this article, we discuss the following:
What is Project management?
Project management is using your skills, in association with knowledge, tools, time, and team, to deliver satisfactorily on goals.
It requires you, the project manager, to have the ability to plan, document processes, track time, manage budgets, and communicate with team members effectively.
A project could be building a website for a client, developing a mobile application, launching a new product, and expanding a business into new markets.
Unlike management which is a continuous process, the above-listed projects are time-bound, making them project management tasks.
Nurture teamwork and deliver projects right on time. Create unlimited projects, and associate them with income/expense transactions with a few clicks.
Project management and accounting software
What makes the integration of project management with accounting a necessity?
The simple answer is productivity.
Working with two software platforms – accounting and project management – to achieve the goal of tracking and reporting the financial benefits of projects takes more of your time and leaves room for errors.
By combining the functions of accounting and project management on a platform, you can conveniently track the financial benefits of projects with features like billing, invoicing, and time sheets.
You get insights into the profitability of projects and know the tasks on which you spend the most time.
So,
Let's get into features that would help your decision-making.
6 Things to consider when picking accounting software for project management
Team collaboration
Time tracking
Project tasks breakdown
Ability to set milestones
Invoicing
Track expenses
Team collaboration
One of the critical skills in managing a project is team management.
A team working in isolation could negatively impact the quality of project results. That's why it's essential to collaborate, discuss and share ideas.
Your choice of project accounting software should foster team collaboration, where members can share task-related thoughts or ideas on resolving roadblocks.
Even for a one-person business like graphic designing or web development, it would help to use software that supports your growth into a team.

Time tracking
The phrase "Time is money" is arguably for project managers.
In project management, time is a valuable resource that measures your efficiency toward handling project tasks to deliver on set goals.
Project management with time tracking ensures that every task is allotted just the suitable hours and billed accordingly. A great solution for you is the LogWork time tracker. You can try it for free and see which functionalities are the best for you.
You should see what's getting done, how long it's taking, and potential changes to make if the need arises.
Project tasks breakdown
You can break down projects into little tasks, with each completed task edging you closer to finishing the project.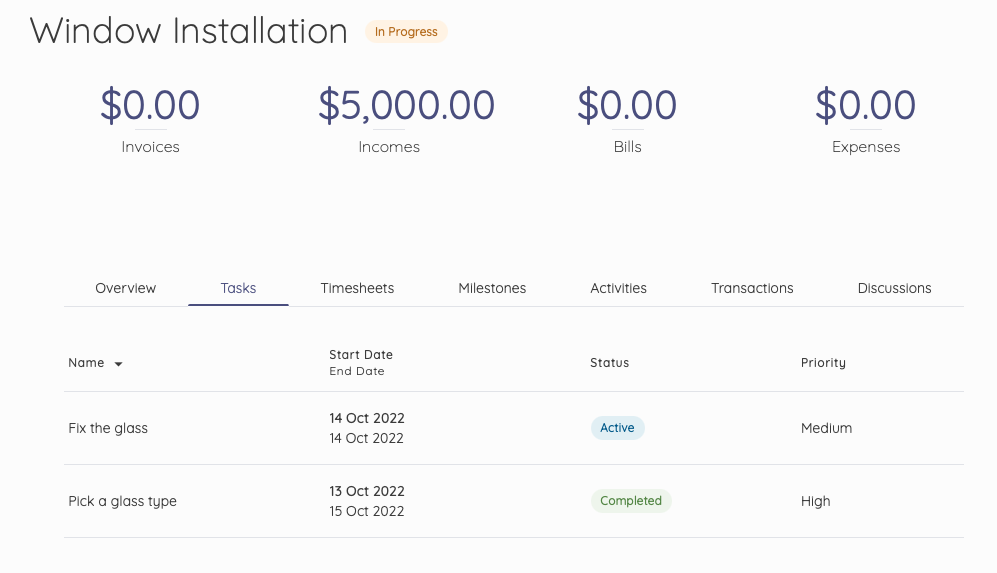 Project accounting software should afford you the liberty to add subtasks, define their start and end dates, see the status, and set a priority level.
Ability to set Milestones
Every project should have a set of milestones that guide the process of task completion.
Milestones symbolize easily defined targets that help you to stay on top of progress points.
You should be able to create milestones and use them to break off projects into phases for the convenience of execution.
Invoicing
Direct invoicing of your clients from the project's app is one of the significant perks.
When choosing accounting software for project management, ensure that invoicing is an inherent feature.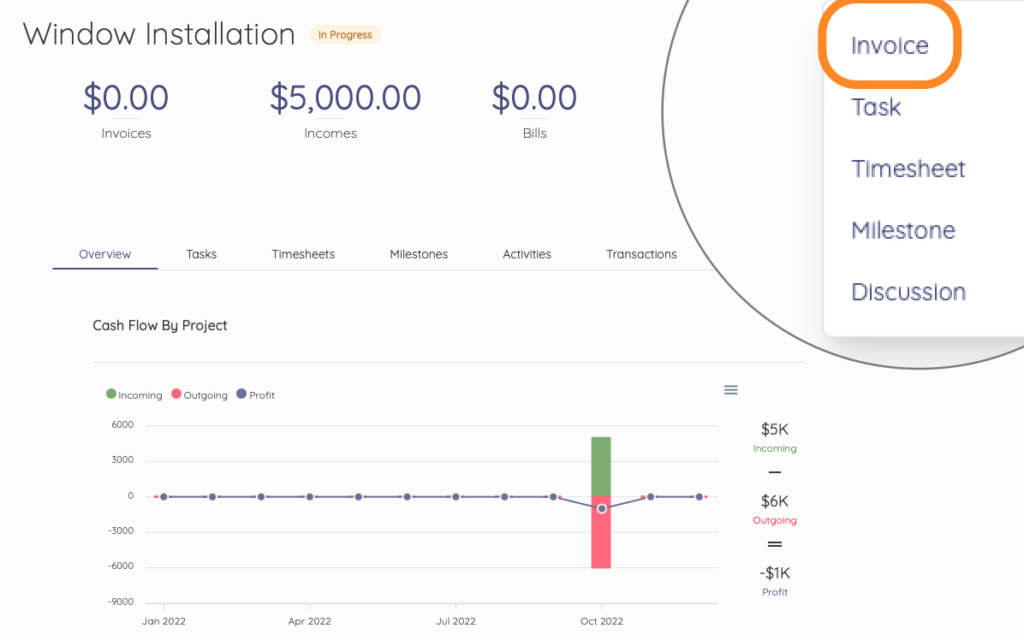 The upside of having invoicing as a native feature is that you can automatically calculate your billable hours for each task when you create an invoice.
This saves you much maths time, helping you focus on other aspects of your business.
Check out: How to Invoice Billable Hours.
Track expenses
Some projects incur expenses in the form of labor hire, purchase of raw materials, or vendor settlement.
To have an accurate outlook of projected income, you need to record and track every expense.
Working with project accounting software that allows you to add bills and expenses gives you a clear picture of project profitability.
Final thoughts on Accounting software for Project management
Combining project management and accounting software gives you accurate project data sets that show productivity, timeliness, and profitability – all in one place.
You can create tasks, cost estimates, bills, and expenses and have an overview of profit margins for your business.
Getting started with the Project management on Akaunting is relatively easy. Let's get you up and running in no time.
---