Akaunting's Traction in 3 Months
Reading Time:
2
minutes
Visit here to meet the newer version of Akaunting – 3.0
Whew! Three months already since we released the first version of Akaunting. It has been a fascinating journey, and we are pleased to share our progress so far.
We didn't have a lot of fanfare nor a lot of publicity surrounding the launch. However, we visited a local event and shared it with everyone possible.
Much of our traction has come from organic growth and the Laravel community.
So, let's get into what Akaunting has achieved so far.
GitHub
Akaunting is an Open Source software hosted on GitHub and is open for everyone to contribute. We've released 17 versions and gotten 400+ stars, 100+ forks, 145 issues and pull requests (8 available), and 300+ commits.
Overall, developers love what we've created and constantly help us improve with suggestions.
Visitors
Google Analytics shows that akaunting.com has a total of 25,000 visitors – 17K unique.
We have recorded a total of 120K page views.
Companies
Akaunting has been downloaded 6,000 times. We've surpassed the 1,000th domain using Akaunting for their company.
Moreso, our cloud service has reached 1,500 companies using Akaunting for their accounting needs. That's right, over 2,500 companies worldwide have begun their new accounting adventure.
They've found the future of accounting software.

Worldwide
According to Google Analytics, Akaunting has been discovered in 162 different countries. It has been fully translated into 14 languages by 46 translators.
We say a huge thanks to our volunteer translators.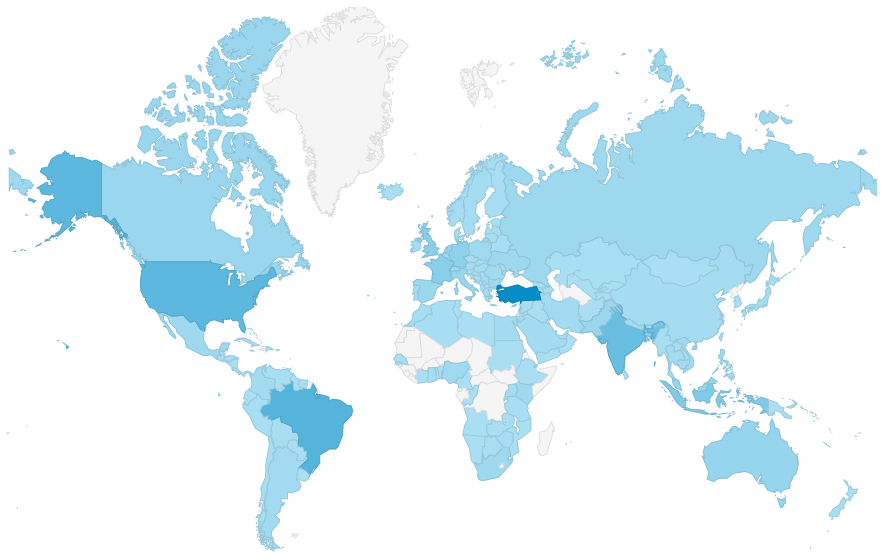 Apps
About one month ago, we opened the App Store for Akaunting. It is used to extend Akaunting functionality. Fourteen apps have been added to the App Store by 32 vendors/developers, and the sales are going pretty well. Some apps are in the review process.
Final thoughts
I think our Akaunting's traction is pretty impressive.
More impressive is the response we've gotten.
People are excited about our disruption to the closed-source dominated accounting software market. It's clear that they've been looking for a long time for such software.
So, that's all for now 😉
Akaunting has since grown. Discover Akaunting 3.0