Premium Cloud: Connect Bank Account, Double Entry, 2FA + more
Reading Time:
4
minutes
Connect Bank account for on-demand bank feeds, manage COA, Inventory, and Permissions, and do accounting as you should.
Akaunting Freemium offers just the right set of tools that allow users to handle all the basic demands of everyday bookkeeping. So why think Akaunting Premium Cloud?
Before going Premium, you should consider some factors relating to your business.
Is your business growing?
Do you need unique permission levels for team members?
Would you like to track bank transactions within your accounting platform?
Do you manage several accounts?
Do you require GAAP compliant double-entry accounting system?
Do you require expense claims for your team?
Premium Cloud gives you more features than just the basic functionalities of the Freemium plan. This way, you can manage your company's finances efficiently, do more with financial data, and get valuable insights for informed decision-making.
Premium Simplicity in Accounting Processes
Akaunting Premium takes swift jabs at those accounting processes that pose challenges to your productive time, ensuring you don't need an accounting degree to sort out even the "most complex" tasks.
One of the critical features of the Premium plan, as acknowledged by many users, is "connect your bank," – also known as the Bank Feeds feature.
Connecting your Bank to Akaunting allows the auto-syncing of Bank feeds and removes the concern of missing transactions within an accounting period.
We focus on what matters to grow your business. And as you grow, we add new apps that evolve with your growth, making your path to business continuity or expansion smooth.
Would you like to kick off Premium Cloud? You can jump in here:
or continue reading to see a list of features developed to handle everything you need for comprehensive accounting.
Bank Feeds
As mentioned earlier, you can connect your Bank to Akaunting and automatically sync bank transactions. This feature is also called the Bank Feeds.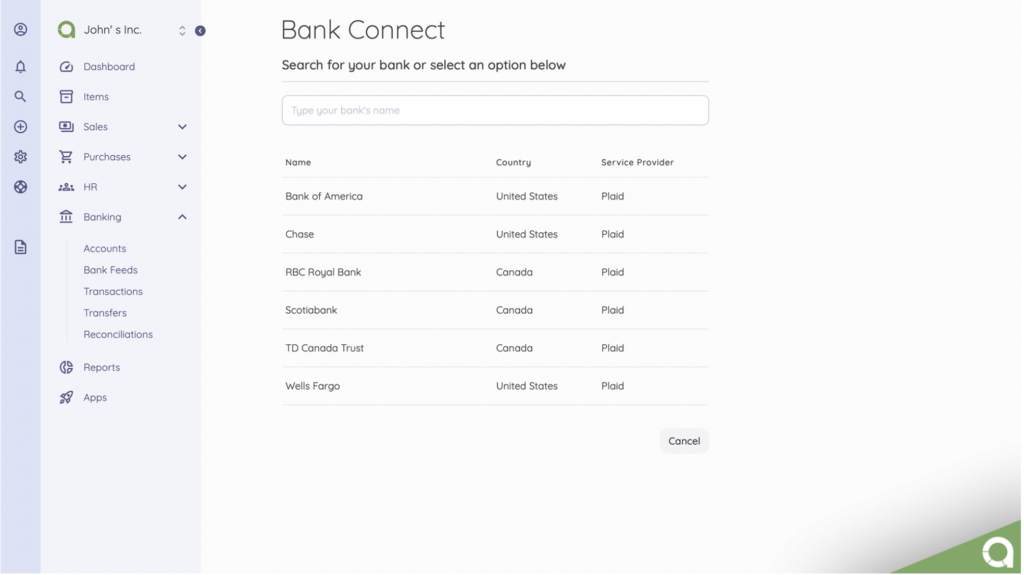 Any banking service consumer needs at one point to get their data out for analyzing and recording their transactions.
With Bank feeds, you can import your data, review transactions, and connect them to invoices and bills.
The Bank feeds service is available to US, Canada, EU, and UK users.
Please note that the Connect Bank Account feature is only available on Premium Cloud, not for self-hosted installations.
Double-Entry with General Ledger, Balance Sheet, Chart of Accounts, Trial Balance, and more
Akaunting freemium allows users to manage income and expenses with basic single-entry accounting features. Premium cloud gives a lot more options to manage your company's finances comprehensively with the Double entry accounting system.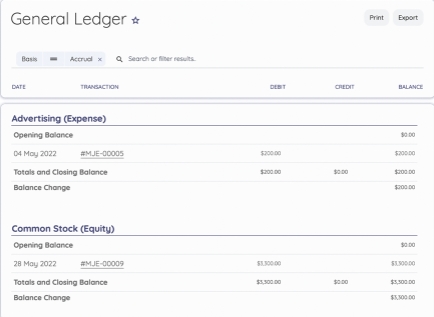 You can manage several accounts with the COA and prepare trial balance and balance sheet reports.
Roles and Permissions
Grant tailored access to your team members based on the information and features required to perform their duties without challenges.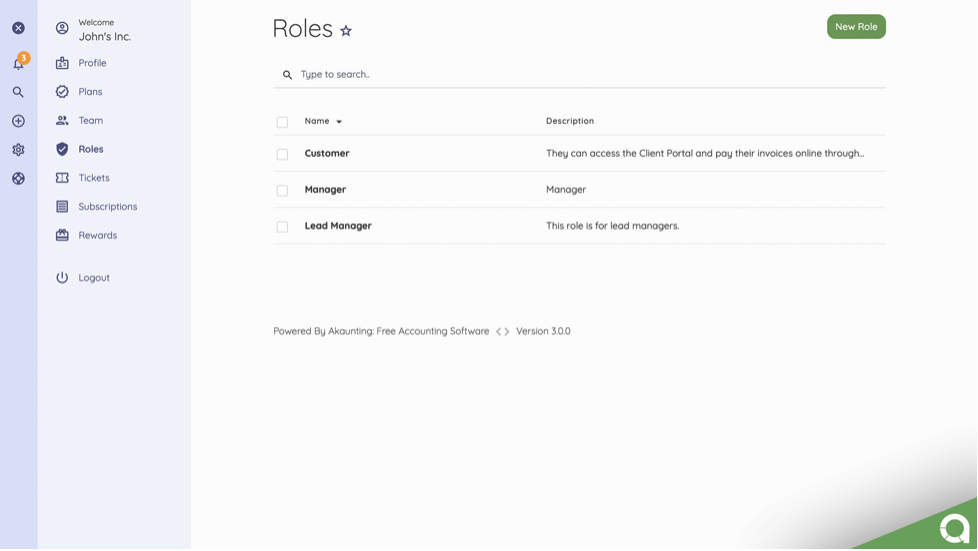 You can define access levels using permissions that allow team members to view, edit, create, or delete records.
You can grant access to specific applications installed on your Akaunting account and control how much a team member can change the app.
Multiple Users
As your business grows, Akaunting grows with your business, allowing you to add as many users as you want.
You can create an account for your entire team and assign roles to each of them.
Expense Claims
Expense claims let you log and track the expenses of every team member and reimbursement claims.
Your employees can request reimbursements on expenses, such as traveling, purchasing supplies, subscriptions, etc. These requests are subject to approval.
Two-Factor Authentication (2FA)
The 2FA on Premium Cloud with multi-factor Authentication protects your accounts from unauthorized access. This keeps your accounting data safe and away from security threats.

Billing Calendar
If you have a hectic work schedule, the Billing calendar makes it easier to track scheduled income and expenses.
See all your income and expense records at a glance, browse through months and create new invoices, payments, and bills without difficulty. See which invoices you need to follow up on or bills you need to pay.
Live Currency
If you deal with multiple currencies, the Live currency app helps you automatically retrieve currency exchange rates from various services such as Fixer, Open Exchange Rates, Google, and a lot more.
Spend less time worrying about sending the wrong billing to clients due to exchange rates. Live Currency syncs all rates for you.
Support Ticket
If you ever need support, the support team and expert developers are always at your service to help with answers to questions.
You can now create tickets for all your questions and get support from the Akaunting team for the apps that come with the premium plan.
As a premium subscriber, you enjoy premium service.
Final thoughts on Premium Cloud: Connect Bank Account + more
If you upgrade to Premium cloud, will the Akaunting you were using change?
Of course not! You will still be able to use Akaunting as you used to, but with improved features to serve your business better.