Akaunting 3.0: Better UI, UX for Small Business Bookkeeping
Reading Time:
5
minutes
Improve your small business bookkeeping experience, save time, and manage workflows more efficiently with Akaunting 3.0
Akaunting 2.1: How are you going to upgrade me? What's better than 2.1?
Akaunting 3.0: Me! And below are the reasons:
Future-oriented reporting
Detailed listing & hover to reveal
Add to favorites
Grid over Card layout
Updated options menu on Invoices, Transfers, and more
Since Version 2.1, the team has continued working to bring you updates, fix bugs, and proactively attend to your everyday challenges, ensuring you have no business downtime.
Notable updates were made to 2.1, which included:
Premium cloud: Allowing you to run your business more professionally with small business bookkeeping-enhancing apps
Monthly payments: Allowing you to pay monthly for your favorite apps. Aiding easy budgeting and management of your finances
Connect Bank accounts: You can import your bank transactions automatically into Akaunting for a complete view of your business performance.
Our goal to level the bookkeeping landscape for every business and make it more convenient has birthed Akaunting 3.0. It improves business productivity, saves time, and provides smoother experiences meeting your daily accounting needs.
Version 3.0 is loaded with exciting new features and a cleaner interface that simplify how you handle your small business bookkeeping workflows and provide better client services.
Let's get into details about how your business will benefit from 3.0!
Future-oriented report
Seeing projected income and expenses is crucial for growing businesses, as it helps in budgeting and allocating funds required to sort out bills.
The future-oriented report shows upcoming payments for you or your customers. The new report has a cleaner UX, providing better visual convenience while navigating your dashboard.
You can also use the newly added pin feature for frequently used reports to quickly browse reports from the home dashboard.
Accessing the Future-oriented report is easy.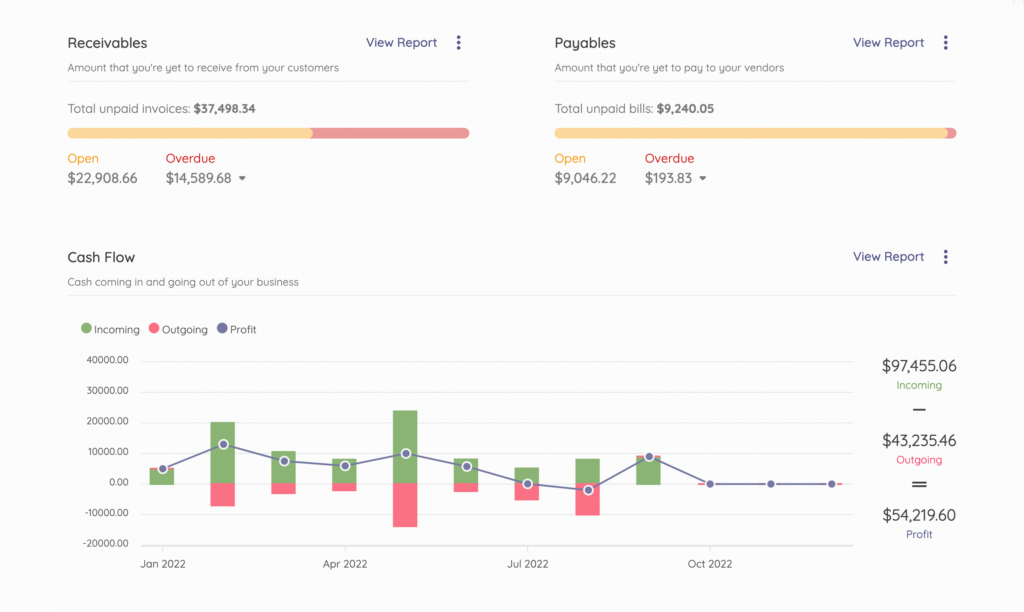 Detailed listing & Hover to reveal
You can view the details of listed Invoices, Bills, and Transfers at a glance, saving you a few more clicks required to see when they were created and the due dates. On Transfers, you see the reference information.
A more intuitive update is the Summary Card added to Invoices and Bills. A simple hover on the Invoice/Bill number reveals a pop-up with brief information containing the customer's name, bill status, item, and payment status.
Here's how the Detailed listing works on the Bills and Transfers pages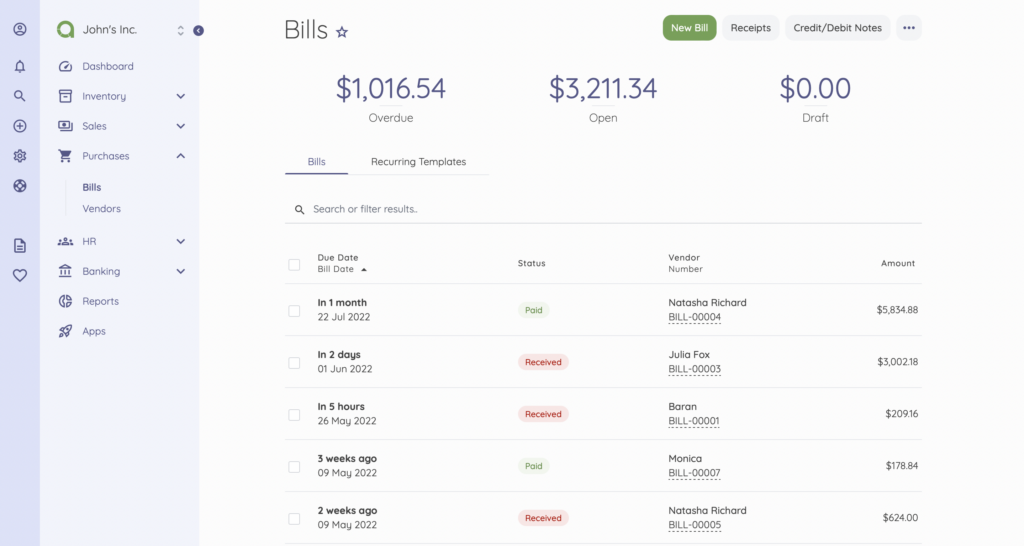 Explore the hover feature on the Invoices page.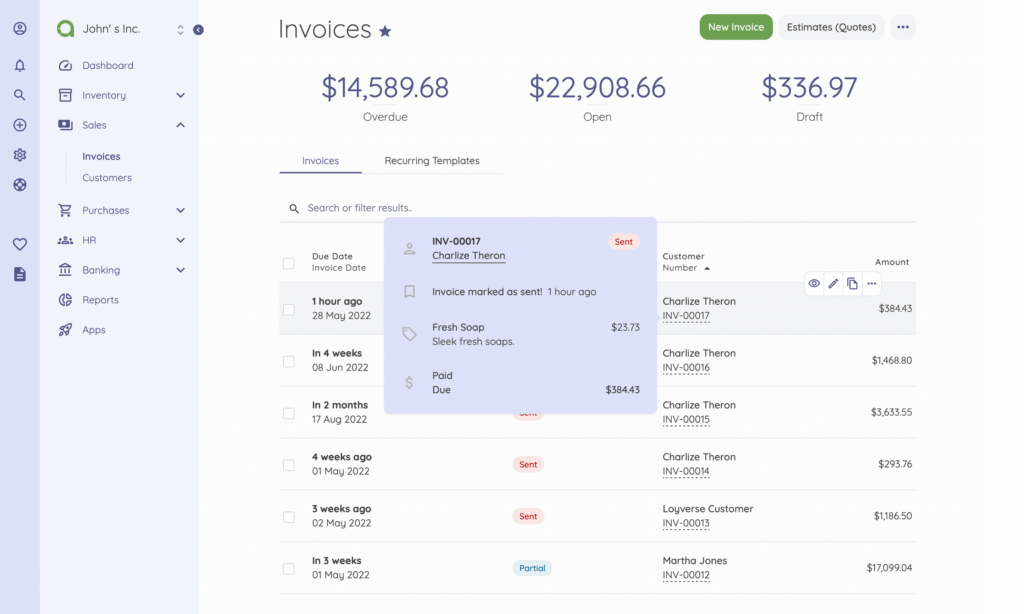 Add to Favorites
The hassle of going over several menu options before arriving at your frequently visited page or used feature is now simplified. Akaunting 3.0 makes it bliss to access your favorite pages right from the home dashboard.
With the Add to favorites option at the top of installed apps/feature pages, you can add your frequently visited pages to favorites with a click, saving productive time spent on app navigation.
Each Favorited feature/app gets added to the side panel for quick access.
Adding to favorites is easy and quick.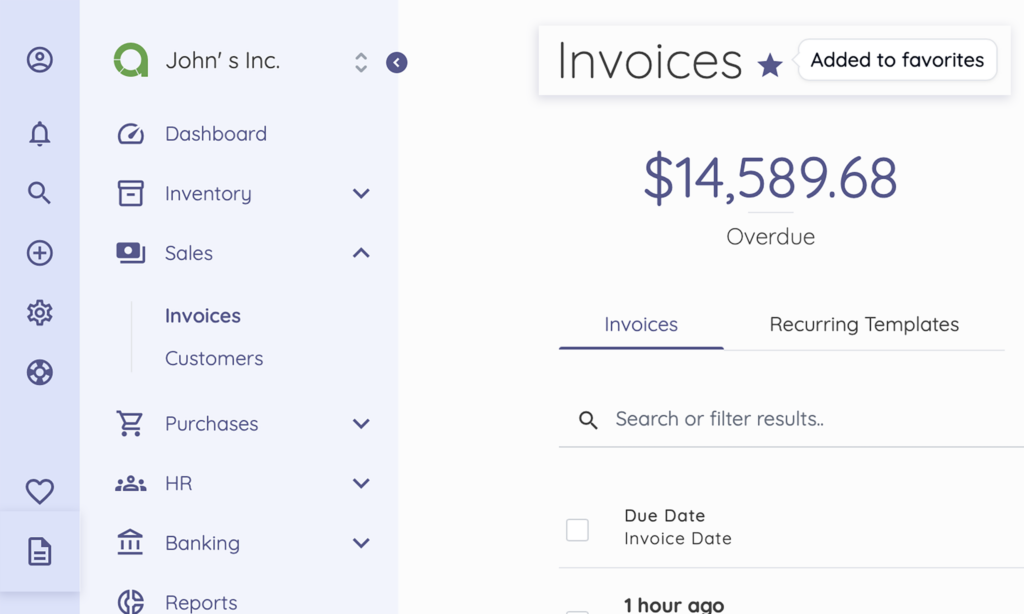 Grid over Card layout
While many SaaS products popularly use the Card UI design, it could be visually distracting to users with too many colors. For this reason, Akaunting 3.0 ditches the Card UI design and adopts the Grid layout, which provides a clean interface with easy navigation.
The grid layout means a more responsive design that supports multi-devices and reduces complexity. You will be able to view content in a clear and readable structure that eases the use of Akaunting to handle your everyday bookkeeping needs.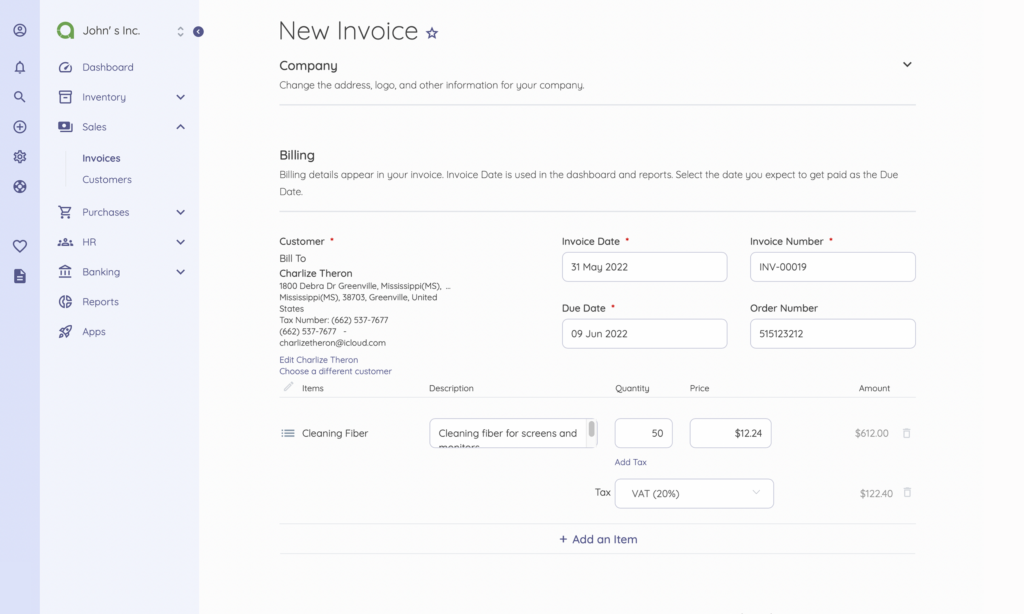 Connect or Split a transaction into multiple invoices
Keep your accounts receivable or payable balanced with the Connect feature.
You can now link multiple invoices to a transaction or Split transactions into partially paid invoices.
For example, multiple invoice payments from a client or bills you've paid to a supplier at different times can all be matched to a single transaction.
You can also split transactions and reconcile the remaining amounts with future payments.
RTL Support
Enjoy an improved intuitive experience with RTL support for seamless right-to-left language translation.
Akaunting 3.0 tailors how text is displayed and read on your dashboard, ensuring that as a right-to-left language native, you are never lost in translation.
Parent-Child category
Keep track of transactions by organizing your income and expenses into Categories and Subcategories.
With subcategories, you can generate unique reports with insights for informed decision-making.
Parent-child categories can also be used for inventory items, assets, and more.
Invoices, Transfers, and more
(Updated options menu on Invoices, Transfers, and more)
– Updated options menu
Version 2.1 had limited options you could perform on the display pages of invoices, transactions, payments received, bills and transfers. With 3.0, there are added options to save you time and simplify your workflow.
By hovering on a line item on the Invoices page, you get four options – the fourth being three dots that displays a dropdown menu. Here, you can print, Download a PDF, Share a Link, Send via Email, Cancel or Delete.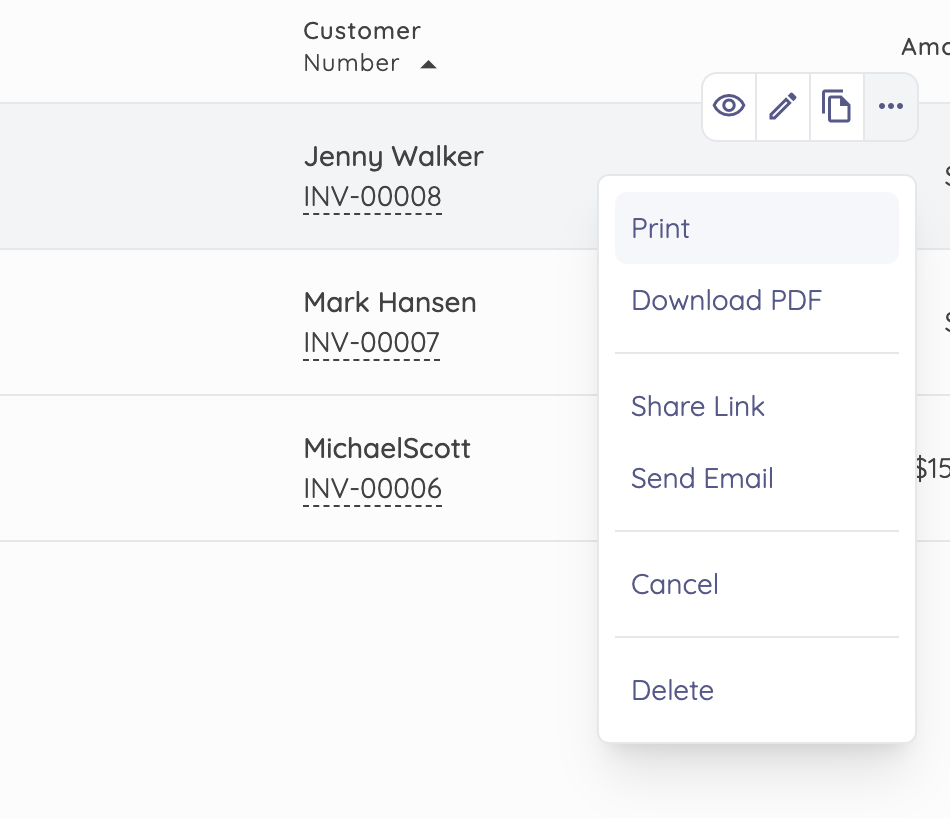 Choosing "Print" opens up a new page where you can quickly check for the accuracy of your created invoice.
The options menu is now available on Transactions and displays four options, with the fourth being three dots that show a dropdown menu when clicked.
On the dropdown menu, you have "Connect," which allows you to manually match transactions with previously captured invoices or bills; Print, Download PDF, Share Link, Send via Email, or Delete.
– Payments & Revenues are now recorded in Transactions
Akaunting 3.0 makes navigation more straightforward with fewer menu options.
The Revenues and Payments tab, which were listed in "Sales" and "Purchases" respectively, have been removed, with their functionalities merged into "Transactions."
With the new update, creating your Income and Expenses statements all happen in Transactions.
– Recurring payments page
In Version 2.1, finding your recurring payments was quite a headache. This has been simplified for swift access and use.
Your recurring payments can now be accessed from the Invoices page. You can see a list of recurring payments at a glance, which helps you plan expenses accordingly.
More small business bookkeeping enhancing features
Changes on 3.0 are designed to uplift your user experience and accounting workflow. You can customize e-mails when sending invoices. The default template remains; however, you now have control over the content of invoice emails.
On the technical side, Akaunting 3.0 is created with Tailwind on the front end, using PHP 8.0 and Laravel 9 as infrastructure to deliver high-performing accounting functionalities and a better user experience.
How do you get on Akaunting 3.0 for your small business bookkeeping?
Akaunting's cloud service users get the upgrade automatically, while users who have Akaunting self-hosted can easily upgrade by following the update documentation https://akaunting.com/docs/update.
Should you have any challenges, don't hesitate to reach out. 🙂
A little something for our early testers
We reached out to a few of you who were quite helpful in testing Akaunting 3.0, providing invaluable feedback that improved the new release. You are amazing!
As a thank-you gift, there is a 30% discount on all apps and plans for 3 days.