Web-based accounting software and 10 benefits for small business
Reading Time:
4
minutes
Is web-based accounting software better for your small business? We highlight the ten benefits for small businesses.
But first, let's understand accounting.
What is accounting?
Accounting is a regular practice that has existed for years for companies and personal finance management.
It is how you keep, organize and report business records for accountability to authorities such as the Internal Revenue Service (IRS).
Besides filing taxes to the IRS, accounting gives you a detailed representation of your company's financial performance over time.
You can tell if your business is growing or taking a downward trend through your cash flow statement, the records of your assets and liabilities, and other reports.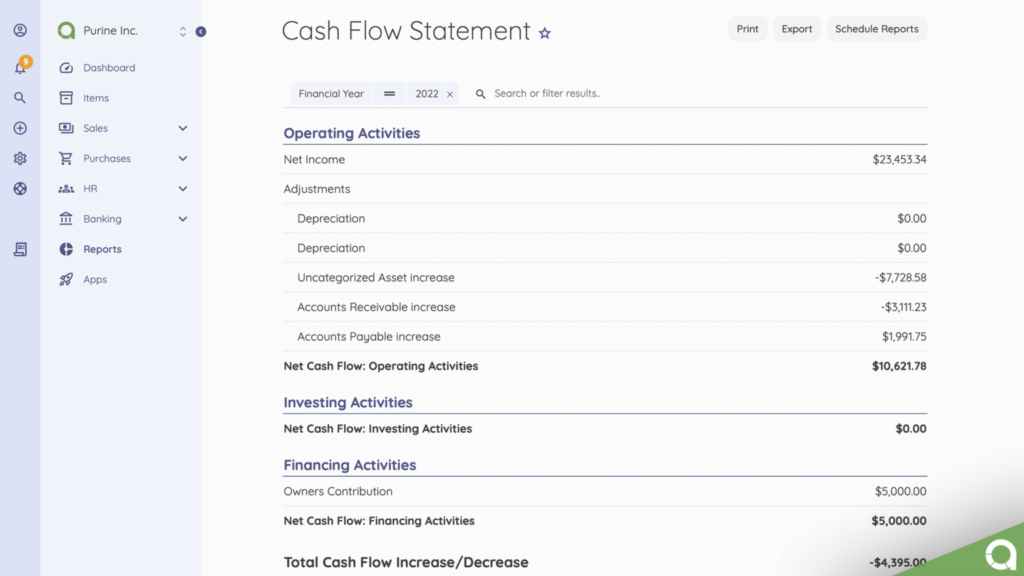 With the developing technology, saving valuable time has become even more essential for businesses.
The traditional way of doing accounting with a pen, paper, and calculator has become a thing of the past.
Web-based accounting software makes bookkeeping relatively easy for everyone, eliminating the requirement of an accounting degree to manage your finances.
What is web-based accounting software?
Web-based accounting software is an accounting system that keeps all your data in a web-based environment, with varying permission levels that you can determine for every stakeholder of your business.
Every feature you need to manage your bookkeeping processes is cloud-based, with no need to install any application or program on your PC.

This also enhances remote teams as everyone can access the same data and the exact software version without any disparities.
The basic need of web-based accounting software is a good internet connection, and you are set to do accounting the convenient way.
10 benefits of web-based accounting software
Here are some benefits you enjoy using web-based accounting software;
Easy access
Automatic updates with instant push
Automate processes
Accounting accuracy
Ease of compliance
Scalability
Integration
Efficiency
Eliminate paperwork
Secure data
Easy access
Because it is cloud-based, you can access your accounting software anywhere and from any device – PC, Tablet, Mobile, etc.
It enhances remote working for decentralized teams. This way, everyone works on their responsibilities from the comfort of any workspace.
You only require a device with a good internet connection to access your company's accounting data.
Automatic updates with instant push
With installed accounting software, you must regularly update every new feature release. This could pose a lot of danger to your data.
Also, updates could come with compatibility challenges for your business device.
Compatibility is not a problem with web-based accounting software, where updates or upgrades happen without users needing to manage that manually.
You always have the most up-to-date version.
Automate processes
Automate your accounting process so you wouldn't have to worry about repetitive tasks.
Repetitive tasks could be setting reminders for invoices/bills or automatically syncing your bank data.

You can automatically import your bank transactions, schedule reports, and recurring invoices.
Tools such as Live currency help you get the latest exchange rate of currencies, saving you invoicing errors.
Accounting accuracy
Cloud-based accounting software eliminates errors associated with manual data entry on spreadsheets or writing them with a pen on paper.
For example, web-based accounting software automatically categorizes transactions and accounts when preparing accounts on a Double-entry system.
You can also connect/split invoices with ease and automate reconciliation processes. These processes are easily prone to errors if done manually.
Ease of compliance
Your business stays GAAP compliant with applications that aid double-entry accounting, tax, or form filing to the IRS or local authorities.
The ease of compliance help business meet the requirements of accepted accountşng practices and avoid getting into tax problems which could result in huge fines.
Scalability
As a business grows, it requires more resources. Cloud accounting software scales with the growing demands to ensure business continuity.
Cloud software adds features regularly to meet the demands of small businesses.
Integration
Cloud accounting software saves you the cost of managing various services across different dashboards with integrations.
For payments, you can integrate with services like Paypal, Stripe, MTN Momo, and many others. Integrations with Woocommerce and Opencart enable you to manage your e-commerce stores.
Integrations allow you to manage a more-expansive network of programs with your bookkeeping software for efficient business operations.
Efficiency
It is easy to get more work done in less time when you automate processes and eliminate repetitive manual processes that take a chunk of productive time.
Accessing reports in real-time saves valuable time spent generating reports for informed and insightful decision-making.
Eliminate paperwork
Eliminate manual work and save hours spent on capturing and recording accounting data on paper.
Online accounting software helps you run an eco-friendly business that deals less with paper.
You can send, track invoices, and pay bills electronically without paperwork.
Also, online accounting software lets you capture receipts with basic information such as suppliers, vendors, or payment methods.
Secure data
Cloud accounting services have multiple levels of security, including advanced encryption and access control, to ensure that only authorized users can access your data.
Furthermore, all your data is backed up automatically to ensure you aren't in danger of losing your business's financial records.
Because your data is cloud-based, losing access to your devices, such as a mobile phone, PC, or tablet, doesn't affect your data.
Final thoughts on web-based accounting software
Numerous other factors make online accounting software a better option for installed software. However, the decision still depends on your business and goals.
Suppose you want to improve your bookkeeping processes, grow your business, and do accounting more conveniently. In that case, Akaunting is an excellent option to consider as other web-based accounting software.